If you need any information on this website translated, please contact us. - আপনার যদি এই ওয়েবসাইটের কোনো তথ্যের অনুবাদ প্রয়োজন হয়, আমাদের সাথে যোগাযোগ করুন। - Proszę pytać, jeśli chciałbys, aby coś zostało na tej stronie przetłumaczone. - Burada tercuman lazimsa, lutfen bize bildirin - Если вы хотели бы что-нибудь на этом сайте переводе, пожалуйста, свяжитесь с нами - Nếu bạn muốn chúng tôi dịch bất cứ điều gì trên trang web này, xin vui lòng liên hệ với chúng tôi.
19.3.2018
Phew – last week was very busy! On Monday, thanks to Mrs Fielding, we were visited by Zoolab who launched Science Week. The trainer emailed to say, "Thank you for a lovely day at your school on Monday. All the classes were fantastic. They sat beautifully: listening as well as showing great knowledge, using scientific words and asking lovely questions."
On Wednesday, all of the children participated in a number of creative science activities. The children were organised into their House Groups and this gave them a great opportunity to learn together. Also on Wednesday, Mrs Painter led a celebratory "Sing Up" assembly. A governor, who participated in this event, said that the children's "singing was amazing!"
Lastly, on Thursday, an enthusiastic Year 4 team came third in a football tournament whilst Year 3 performed an impressive range of violin pieces for their families. Happy days indeed!
Coming up:
On Wednesday, Year 5 will set off for Leeson House in Dorset. We hope they have a warm, safe and happy trip!

It is Down Syndrome Day on Wednesday. The whole community is invited to wear crazy socks/tights to help to raise awareness of how people with Down's syndrome make a difference to their communities.

Consultations for Reception, Woodpeckers and Kestrels will take place between 13:45 and 20:00 on Thursday and between 09:00 and 11:45 on Friday. These consultations provide a superb opportunity for families to meet their child's class teacher to discuss progress, attainment and well-being. Do call the office if you have yet to make an appointment: it is never too late!

We are delighted that the HSA have booked Disco Dion to entertain us all on Friday night. The disco is free and all children are invited.
Leeson House Adventure
21.3.2018 @ 12.14: Year 5 have arrived safely in Dorset: the sun is shining and all is well!
21.3.2018 @ 22:10: All children in bed and happy. Mrs Fielding doesn't get the impression that they are ready to sleep just yet!
22.3.2018 @ 07:11: Mrs Fielding reports that all children are up and about and all is well.
23.3.2018 @ 08:20: Mrs Pollard has just emailed to say that more sleep was enjoyed last night! The children have participated in a range of activities with customary Manor Fields enthusiasm and as you would expect, their behaviour is utterly superb. There are some gorgeous photos to follow of children having the time of their lives
sign2sing
We raised £60.20 at our recent sign2sing event. Thank you for your support.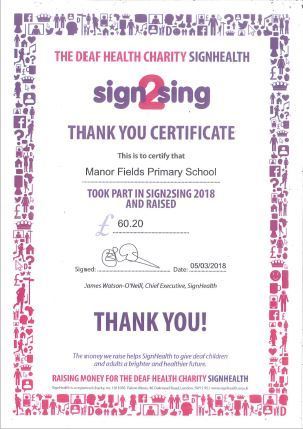 Simon Says - School Council Charity
We have received the letter below from Simon Says in recognition for the money raised by the School Council from the table top sales. Thank you for all who supported these events.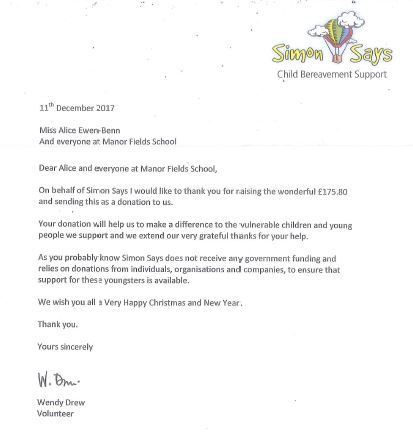 If you would like to pay for school dinners or trips online please ask at the office for an activation letter and login using this link - https://www.scopay.com/login.html
Please click here for a direct link to the online application for Free School Meals.
The NSPCC have launched a new whistleblowing campaign so please visit our safeguarding pages in the About Us section for more information.
Did you know that O2 offer a free "Parental Control" service to help families to protect their children while they're online? They can enable you to restrict children's web access via their mobile to a limited number of sites which are suitable for children.
For information on Wiltshire Local Offer click on link below: