If you need any information on this website translated, please contact us. - আপনার যদি এই ওয়েবসাইটের কোনো তথ্যের অনুবাদ প্রয়োজন হয়, আমাদের সাথে যোগাযোগ করুন। - Proszę pytać, jeśli chciałbys, aby coś zostało na tej stronie przetłumaczone. - Burada tercuman lazimsa, lutfen bize bildirin - Если вы хотели бы что-нибудь на этом сайте переводе, пожалуйста, свяжитесь с нами - Nếu bạn muốn chúng tôi dịch bất cứ điều gì trên trang web này, xin vui lòng liên hệ với chúng tôi.
15.1.2018
Last week, Miss Crowley's phonics workshop gave families an opportunity to learn more about how we teach the children to read. The children who participated did a great job of demonstrating our approach and we must thank those families who were able to come.
Football coaching, tennis sessions and violin lessons got off to a great start and the Year 2 trip to Wagamamas was a treat. We have a seen a huge upsurge in the number of children using the Manor Fields Children's Bank and over 20 children made a deposit on Friday!
Most Year 5 families were able to attend the Leeson House information session on Friday and there is great excitement about this annual trip to Dorset.
Coming up:
Curriculum letters will be shared with families on Wednesday

It is Census Day on Thursday and one of Mrs Nicholson's "Red Letter Day Dinners" is expected to be enjoyed by over a 100 children

On Friday afternoon, a Year 5 singing project will be launched that will culminate in a production at City Hall in March

A 3:15 on Friday, Mrs Griffiths will lead an information session about the Year 6 trip to the Brecon Beacons in June.
Simon Says - School Council Charity
We have received the letter below from Simon Says in recognition for the money raised by the School Council from the table top sales. Thank you for all who supported these events.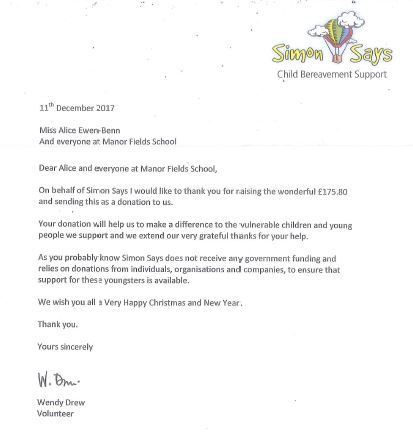 NHS Wiltshire - Walk In Centre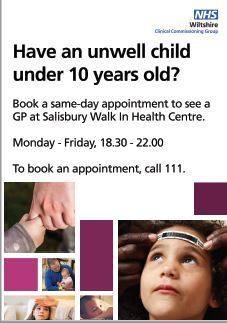 If you would like to pay for school dinners or trips online please ask at the office for an activation letter and login using this link - https://www.scopay.com/login.html
Please click here for a direct link to the online application for Free School Meals.
The NSPCC have launched a new whistleblowing campaign so please visit our safeguarding pages in the About Us section for more information.
Did you know that O2 offer a free "Parental Control" service to help families to protect their children while they're online? They can enable you to restrict children's web access via their mobile to a limited number of sites which are suitable for children.
For information on Wiltshire Local Offer click on link below: