Magpies
February 2018
What a fantastic start we have had to 2018 in Magpies!
The children have been really fascinated with the learning we have begun on our topic of the Titanic. Our outdoor role play area has been transformed into the Titanic giving the children the opportunity to re-enact the things they have learnt and truly bring their learning alive.
Our English learning started off very physically! The children were imagining they were going on a journey and thinking about the different obstacles they might come across and what they needed to do. Some were jumping from hoop to hoop pretending they were crossing a river using stepping stones so as to avoid the crocodiles. Others were imagining they were climbing up a mountain as they climbed on the apparatus.
Magpies are very lucky to have Victoria, a qualified FA football coach, coming in for the whole of the spring term to teach the children tactical skills needed in football and also developing their ability to work as part of a team. The children are really enjoying this; they all listen attentively and Victoria is very impressed with the skills and progress they have already shown.
13.10.2017
What an amazing week we have had in Magpies!
We have been doing some exciting learning in science about how the Earth rotates and we move from being in light and darkness. The children had great fun playing with shadow puppets and seeing how the size of the shadow changed depending on its distance from the light source.
The Magpies along with the Woodpeckers had a fantastic time at the museum of Army Flying in Middle Wallop. The children got to learn a lot about how flying machines have changed over the years complimenting their learning in school on The Wright Brothers and next term's learning on Amelia Earhart. The children had the opportunity to dress up in flying outfits from different eras and sit in a helicopter where they could pull the joystick in order to angle the propellers.
Have a fantastic half term.
October 2017
Where does the time go? It is unbelievable that we are nearly at the end of our first term!
Magpies have settled really well into the routines and expectations of year 1 showing enthusiasm and positivity in all they do.
The children have been enjoying 'Rally Pals' in their PE session on a Tuesday afternoon; this is an outside agency who come in to teach the children tennis skills. The children are in small groups which are also supported by Mr Browning so the children get plenty of support to develop their techniques. The children will be continuing this until the end of term 2.
Magpies, along with the rest of the school, enjoyed various activities in different countries for EDL day last week. The children came back to the class full of excitement about the different food they had tasted and new knowledge about the country they had visited.
This week, Magpies and Woodpeckers joined together in house groups to complete the "Stay Safe" activities which included first aid, hand washing, fire safety and road safety. The children all engaged with these activities and certainly made the most of the learning opportunities.
We still have exciting events yet to come in this term. On Friday 13th October, Magpies and Woodpeckers are going to The Museum of Army Flying in Middle Wallop, near Andover. The day is going to bring alive our themed learning about the Wright brothers with fully interactive sessions – there will even be a chance to dress up! Watch this space for photos.
September 2017 Meet the Teacher - click here for the introduction to Magpies.
September 2017
Curriculum Overview Letter - Please click here for the Curriculum Map
June 2017
As you are aware the children had a fantastic time at the end of last term on our whole school trip to Paulton's Park. Whilst we were there the children got to experience a mini-beast workshop. They learnt about the different habitats mini-beasts live in and how they adapt to these environments in order to survive. The children also got to handle some of the creatures, some seemed to enjoy these more than others!
Since Easter Magpies have been lucky enough to have weekly tennis sessions from an external coach from the organisation 'Happy Bats' supported by Mr Browning. The children get to have these sessions in small groups, a third of the class at a time, and so there is plenty of support and individualised coaching allowing them to make fantastic progress with their tennis skills. The children are all really enjoying the sessions.
March 2017
Through our cress seed investigation last term Magpies discovered what a plants needs in order to grow. We have been able to ensure our bean plants are getting the things they need and they are certainly growing well!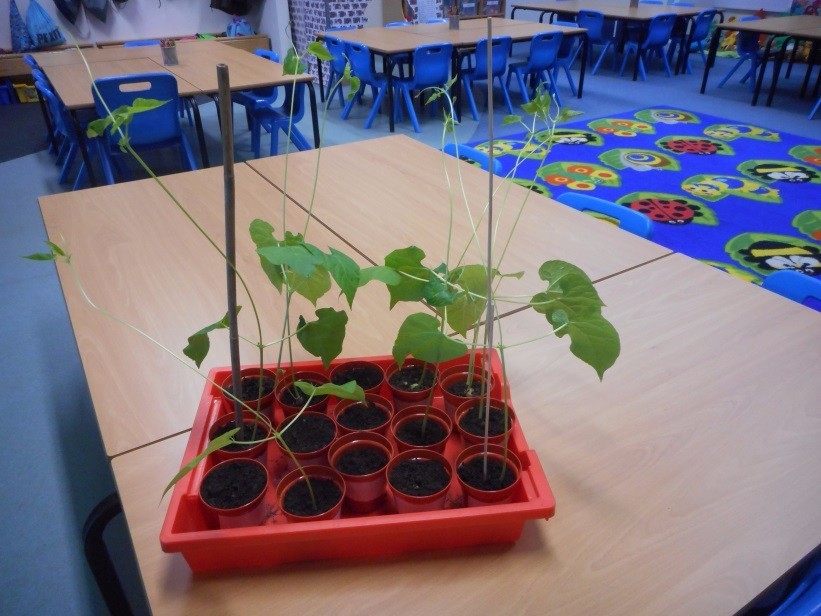 Magpies were lucky enough to have a session with an 'All Stars' cricket coach who came in to school. The children got to have a go at bowling and batting as well as having the opportunity to learn a little about cricket.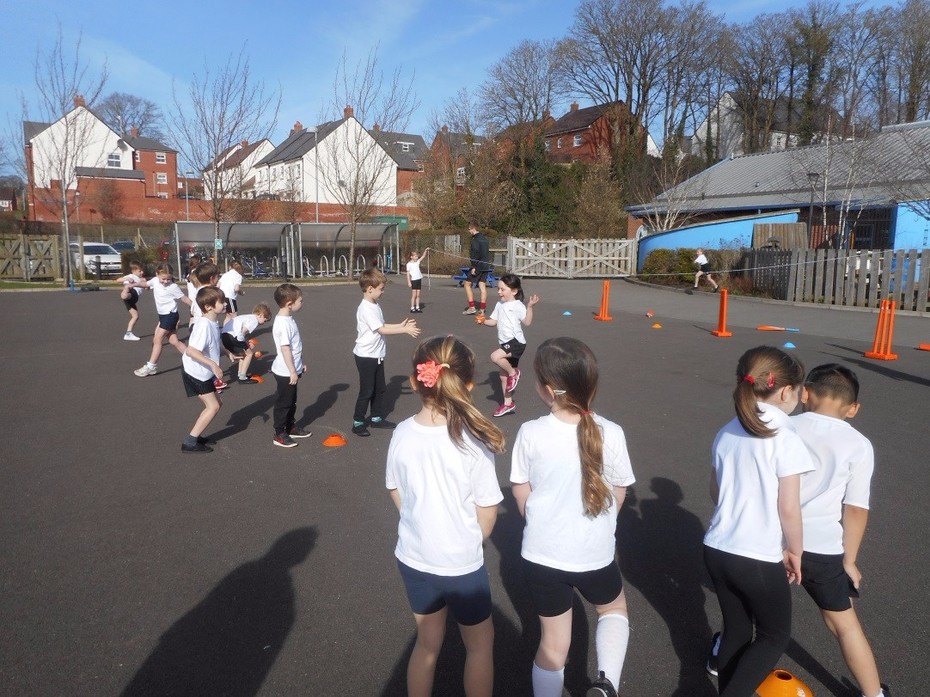 February 2017
In Magpies we have been combining our maths learning on weighing with our English learning on instruction writing by making cakes.
The Magpies enjoyed this activity taking turns to mix, stir, crack and spoon and most importantly all getting the chance to eat the cakes.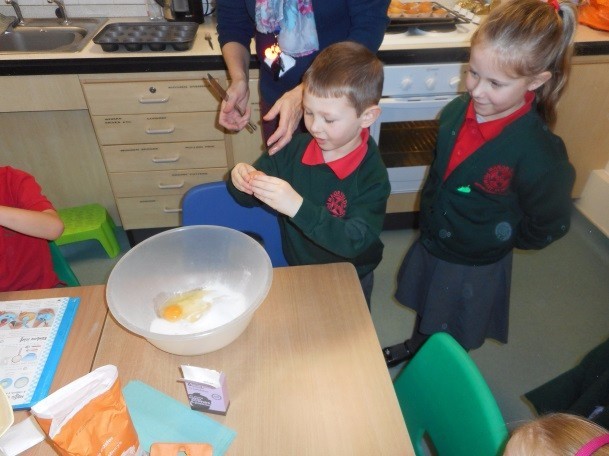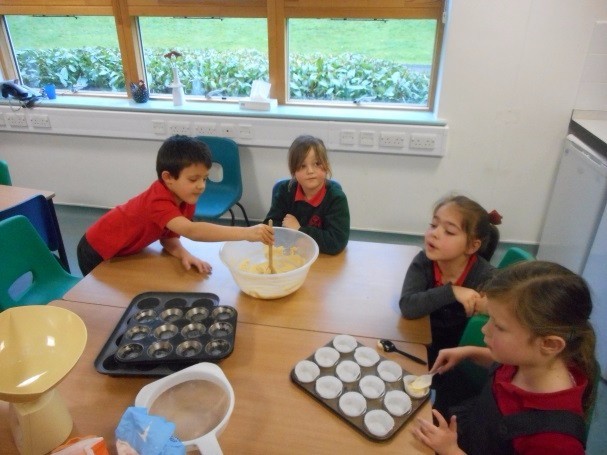 In science, we are carrying out fair tests to explore the best conditions for seeds to grow in. We placed our containers of cress seeds (laid on wet cotton wool) outside, on the window sill in the classroom, in the cupboard and in the freezer. We made predictions about where we thought the seeds would grow best.
Please click here to see our Curriculum map for Spring 2017 - Explorers.
October 2016
The Magpies have made a fantastic start to the school year, embracing their learning with enthusiasm and determination. They have settled in really well to having a new teacher, new routines and more structured learning environment, not to mention new toilets!
In English we have been using our imaginations to help us write new endings to stories we have read - always making sure we use all our good writing techniques. We are now going on to learn about non-fiction texts and how we can use information books to answer our questions.
In Maths the children have been learning to recognise and name 2d and 3d shapes, as well as making connections with these and everyday objects in the world around them. The children have enjoyed playing and learning in 'Magpie Stores', our home corner, which is set up for them to explore using money; writing lists of what they need to buy as well as taking telephone messages.
The children have really enjoyed learning about the creation story in RE and thinking about why and how we should look after the world we live in. We finished off this unit of work with the children creating their own nature mobiles with natural items they had collected. This was learning that also linked to our Design Technology unit and Science where we have been thinking about seasonal changes.
The whole school learning theme is 'How times change'. The children have been comparing what different areas of life were like in the past to what they are today. We have looked at how clothes were washed before the invention of washing machines, how music and what we listen to it on has changed over the years, as well as cars, clothes and communication. Children were amazed that there was a time when people did not have mobile phones and seeing how they have changed over time. They had great fun making and playing with acoustic telephones from string and plastic cups, enjoying testing out how far they could make them work.
Please click here to see our curriculum map for Summer 2016 - Thrills & Spills.
Please click here to see our curriculum map for Spring 2016 - Where the Mountains Meet the Seas.
Please click here to see our curriculum map for Autumn 2015 - Multicultural Me.